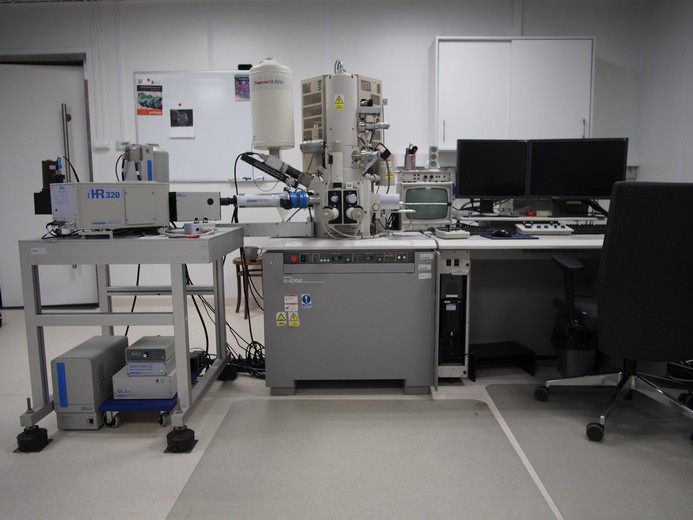 Laboratory of Scanning Electron Microscopy and Microanalysis
The Laboratory houses the scanning electron microscope, microanalytical system and equipment for sample coating and preparation.
The Hitachi S-4700 is a high resolution, cold field emission SEM. It operates in range of 0.5 to 30 kV, with a magnification range of 30X to 500,000X. It is equipped with two secondary electron (SE) detectors, backscatter electron (BSE) detector (YAG), electron backscatter diffraction (EBSD) detector, cathodoluminescence (CL) detector and spectrometer. Image resolutions of 2.1nm (at 1kV) and 1.5nm (at 15kV and 12mm working distance) are achievable with secondary electron images.
Microanalysis is based on characteristic X-ray energy dispersive spectrometer (EDS) manufactured by Noran. Si(Li) detector with 134 eV resolution and 30mm2 active area enables the detection of elements down to boron.
Large sample chamber allows examination of samples of up to 60-70 mm in diameter and 20 mm in height.
Laboratory is oriented towards analysis of microstructure, morphology and chemical composition of samples in 2D and 3D. Laboratory performs analyses of various materials, e.g.:
- geological samples - minerals, rocks and ores,
- rocks, minerals and metals weathering or oxidation products, products of experimental mineral transformations,
- biological materials,
- industrial products and wastes (e.g. fly ash, bottom ash, metallurgical slags, waste incineration residues),
- atmospheric aerosols (including nanoparticles), particulate matter emitted from various sources,
- ceramic materials,
- metallurgical samples,
- new materials, new therapeutic agents and medicines,
- archaeological artefacts, works of art.
Laboratory collaborates with professionals from numerous scientific and industrial institutions locally and internationally. Experienced and skilful staff can help users in routine work and support in solving analytical problems.
Contact information: Marek Michalik (marek.michalik@uj.edu.pl) or Anna Łatkiewicz (anna.latkiewicz@uj.edu.pl); phone: 12 6644312.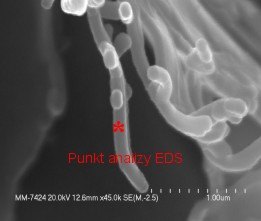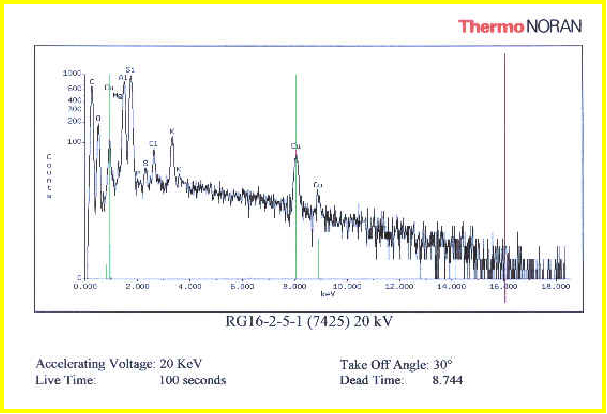 Instytut